Sizing tip:More shapewear sizes and FAQ's are at the bottom 
These ladies either sized to our chart, or sized up/down.  This guide is for reference purposes.  Reach out to us if you have any sizing questions!
Customer Review
⭐⭐⭐⭐⭐
"This body suit is lovely. I'm pear shaped, I've had it for about a month now and wear it at least weekly. I also find it to be super comfortable. Everyone, from my roommates to my boyfriend, is obsessed with it"- Kardal.
⭐⭐⭐⭐⭐
"I am super tall and have DD's but this shapewear is my absolute favourite. I am inlove! Not only does it look beautiful it's so comfortable even when you're sitting down. I can't wait to buy more!" - Jess M

MADE FOR REAL WOMENBY REAL WOMEN.
WHY YOU'LL LOVE IT???
Say hello to pretty bodysuit that actually sculpts and defines your curves for that snatched look. With the same smoothing technology found in each of our hourglass-enhancing shape suits, you'll look snatched, cute and sexy all at the same time.


Like all our bodysuits, pair this with your favorite bottoms OR wear it under a dress for smooth, sculpted curves.

Tummy control
This waist bodysuit for women is made of Polyester fabric to Increase breathable comfort. It wraps and tightens your tummy and back remarkably, will hide the bumps and bulges on both sides to slim your waist, and gives you a beautiful hourglass figure.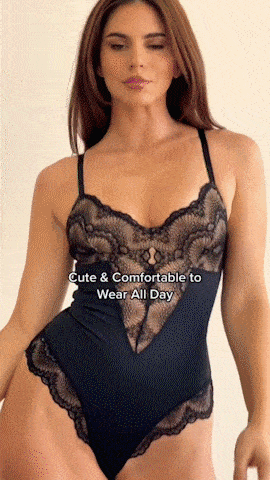 Unique design
This lingerie slimming bodysuit's crotch part with hooks for easy bathroom use. The sexy lace Briefer design helps to lift your butt and add glamour to your natural curve. It works great with everything from, slim-cut jeans, skirts, shorts, and without panty lines. 2 wide and adjustable elastic straps can reduce shoulder pressure and make you feel more comfortable. Backless design perfect for wearing under open back tops and dresses.
Outstanding shaping performance
High-quality Polyester fabric delivers bodysuit with outstanding shaping performance and is designed to move with you, so you feel comfy and not at all confined. Comfortable for all-day wear.
V-neck design
Provides a comfortable coverage side on the chest to effectively controls armpit flabby fat and raise the bust. A classic v-neck design fully display your charming clavicle and curve.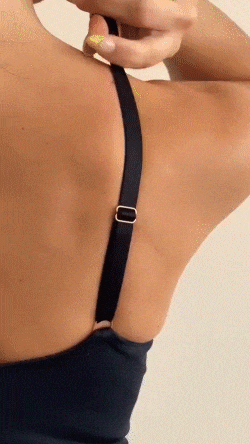 Lace design
Give your shape a beautiful boost in this shaping lace shapewear. Allover soft, smooth lace elevates this bodysuit for a stunning look that's comfortable for all-day wear.
Feature:
Adjustable straps
Built-in power mesh shaping lining
Premium stretch lace
Lacey cheeky butt for a smooth, no-dig feel
Built-in, wire-free powermesh bra lines the bust area
Targeted power mesh panels in the waist and tummy for 360° shaping and hourglass smoothing
Shapewear Sizing and FAQ
Q:  Are your products true to size?
All products are true to size in accordance to the size chart below.  If you are inbetween sizes in the bust, we recommend to size up.
Q:  How do I know what size i am?
We have TWO size charts in inches, depending on the products you are purchasing.
Bust:  Wrap a measuring tape around your body at the fullest part of your bust. Be sure the tape is flat against your body and parallel to the floor.
Waist: Wrap the tape around your body at the smallest part of your waist. 
Hip: Wrap a measuring tape around your body at the fullest part of your bottom.
Q:  How do I know if my torso is "long"?  Should I purchase regular or long?
Our Adjustable shoulder straps+2 Inches
SIZE
lenght+Adjustable shoulder straps+2 
Size Chart in Inches
S
28+2
M
28+2
L
29+2
XL
30+2
XXL
31+2
XXXL
32+2
XXXXL
33+2
Q: What if I'm in between sizes?  
BODYSUITS:  If you are in between sizes due to the Bra Size, we definitely recommend sizing UP to ensure your bust is not compressed and remains supported and comfortable. 
SHORTS:  If you are inbetween sizes in any of our shorts styles, we recommend sizing UP to prevent any dig-in or roll down issues.
 Q: What makes these products shapewear? 
The shapewear is built in!  The power is in the fabric and construction.  We build shapewear into the bodysuit so a majority of the shaping power is done underneath the outer layer.  The lining contains targeted power mesh panels to sculpt and define your waist and smooth the stomach.  As a bonus, the external layer is a premium compression fabric that is stretchy and strong enough to shape the body on its own!   
Q: Can I still wear a bra with this on or will it be too tight?
We designed all shapesuits to ensure you do not need a bra!  Our supportive powermesh sculpting bra acts as a bra - so you can feel supported all day.  However, if you choose to wear a bra, we recommend a lightly padded or non-padded bra for comfort.
Q: How long can I wear the shapesuits? A few hours or all day?
We designed the shapesuit to be a product you can feel comfortable wearing all day!
Q:  How do you go to the loo??
Our design is very user-friendly, We have hidden opening underneath the bodysuit.
Q:  Is that larger size friendly to chubby body??
Yes dear customer, we have size S-4XL